Yogi's 550 F
I have got an essay and photos from Yogi at Poland.
---
My motorbike adventure began around year 1999. I was 17 years old and there was an old metal shed in back of my secondary school. They were about to disassemble it and I noticed an old not complete motorcycle inside.
I love spending my time on various mechanical fixes and this was the only reason I wanted to take that motorbike - I have never supposed that they can be so interesting and exciting.
It was Polish 2 stroke moto built in 1961. I spent few seasons completing all the missing parts, reassembling the engine and so on. Finally it was working but I was bored enough to sell it - there were still many things missing like seat, a front lamp, etc. The paint and chromes were also in a bad condition and I was not intended to improve that - because lack of funds and motivation : there was no chance to ride it legally (no papers).
In that time I started to watch MotoGP races in TV and my view of motorbikes changed completely - motorbikes have become my greatest passion.
Of course I was dreaming about own one but I still had no money for even driving license.
In the meantime I started my studies :
some new opportunities to start part time job during summer holiday (3 months in html), but never had money and time simultaneously. And, of course, my parents were against motorbikes so I had to forget about any help from their side.
Finally I managed to save enough without taking any summer job and I made my driving license. Then I decided to sell my old wreck-car that was consuming my entire fellowship I earned for good study results.
It was late summer same year, when I was boring and took adverts appendix of a motorcycle magazine, I was searching for the cheapest 4 stroke looking somehow.
Then I saw her. Honda cbx 550F. Twenty years old but what a shape! I fell in love from the first sight and I started looking for everything about this magic motorbike in the Internet.
I liked it so much because of all that technical 'luxurious' innovations - it is not a certain bike, even nowadays.
During my visits on various motorcycle forums, i 'met' 2 cbx owners. We founded an unofficial Polish cbx fanclub (unfortunately discarded, hopefully revived soon???)
with one of them and then I bought my current honda from the second one. He asked me for a favor : It was autumn so I sent him the money (I noticed he was a reliable guy, and he needed that money) and he promised to organize the transport (he lives opposite side of Poland) early spring. We became good friends many weeks before. Additionally there was another one same cbx in worse condition for spare parts included.
All I had to do was waiting and waiting is always the worst thing to do.
Of course I was so impatient : I was asking for any photos and any further info regarding my cbx. I was collecting ANYTHING : photos, records, articles (even parts' pictures from ebay!) and so on during that winter.
Finally spring came and the second part of this story begins...
'Puma' fixed transportation for very small money and he brought both machines to me like he promised. I was the most happy guy in the world that day. The motorbike was looking wonderful. Was completely repainted with use of black-red-white pearl paint - like originally.
He has also promised that there is nothing missing, not to care of oil and so on - the cbx is ready to run.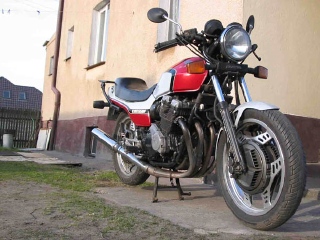 I believed him because I couldn't have even put it on a central stand to check the oil level. The only malfunction I noticed was rear tyre pressure, but I fixed it quickly and drove one the road for the first ride. The engine's behavior was a bit strange : it was stalling from time to time and once or twice I stayed in the middle of major crossroad trying to fire the engine. I came back to home after 30 kilometers of first test ride. Next time I noticed that one cylinder does not work at all. It seemed to be a real drama to me, lol. I fixed it after long investigations. When I finally checked the oil level (just for sure) - it turned out that the meter is hardly moist. During some next rides, the engine was smoking more and more. The smoke was blue and there was only one explanation : takes oil. However, the smoke was disappearing when the engine becomes hot, so it was still possible to ride. I was riding till autumn, but after some time, I noticed one more alarming symptom. Near 5000 RPM, strange and very unpleasant noise and crush feeling was occurring.
I was pretty sure that it is a main chain (needed replacement soon) but I was wrong.
I finished that season with a little slide while coming back from my girlfriend. I lost one mirror, turn signals and got a little dent in a fuel tank (from handlebar that got off-centre during this little crash, but I managed to improve it a bit and arrive home).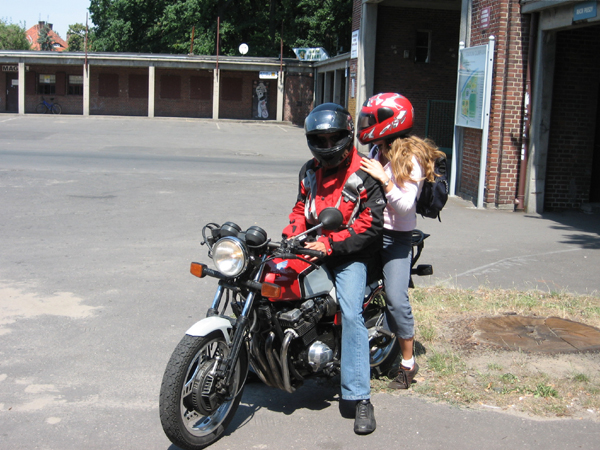 During winter I have completely disassembled the crankcase, cleaned the pistons, repaired crankshaft bearings (main damage I noticed), and got my head renewed, including all valve gaskets new.
Unfortunately, in spring it turned out that the engine smokes even more than previously (but still only when cold). It was also not possible to set idle rotates that was very bad for driving comfort and destructive for the gearbox.
However, the crankcase seemed to be assembled perfectly and that specific noise has never appeared anymore. It must have been crankshaft bearings!!!
Finally I decided to visit honda service. They took huge amount of money saying that they cannot do anything with smoking engine, rotates issue - carburetors are in bad condition and adjustment is not possible. I was shocked because they behaved like amateurs : they measured compression and said that it is ok and they have no idea about the reason of taking oil.
They suggested that good compression means excellent rings' condition. I think that oil behaves like a gasket improving compression.
That year (2007) I rode only twice and made only 50 km. I gave up and decided to sell my cbx for spare parts. Thanks God I abandoned this idea after some time. My cbx is completely disassembled waiting for its better times. In the meantime I bought one more cbx with one broken bearing. I hoped to use its pistons/cylinder. However, the piston rings were not rotating freely, one did not at all.
After that I bought another cylinder with complete pistons.
Unfortunately, during summer 2008 I had many other things to care of and when I finally had some time, I was too exhausted to do something by my engine. I am thinking about kind of cart for the engine to mount. Just for diagnostics and adjustments. There are 2 main reasons for that. First of all the engine is too heavy and carrying it from the cellar to garden is not so comfortable. Furthermore, the cbx frame is so 'poky' that mounting the engine into it with entire equipment to see that it needs to be disassembled again is a nightmare. I have even cut off a most bottom part of spare frame and the only thing I need is a solid cart and idea for the stand not colliding with exhaust (unfortunately it is a must because of my neighbors).
Well : I am waiting for spring and hopefully this time everything will be fine.
I am also looking forward to any contact with cbx owners, especially from Europe.
Happy New Year 2009 to all of you and see you on the road!
Krzysztof Zaluk a.k.a. Yogi
(jogi997@o2.pl)
Oct, 2008
---
This page is administrated by Yutaka Yasuda. (yasuda@bakkers.org)