Torben's 550 F
I have got a message and photo from Torben who lives in Odense ( home town of Hans Christian Andersen ) of Denmark.
---
Hi.

I just found your site with all the pictures.

I resently bought this CBX 550 F from 1987.
It is a pleasure to ride it.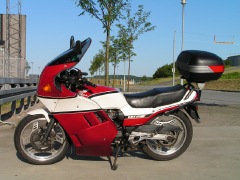 Best wishes
Torben Hvass
(torbensh@ofir.dk)
July, 2007
---
This page is administrated by Yutaka Yasuda. (yasuda@bakkers.org)