Silvano's CBX550F2
I had buy my byke in 1997, because Honda CBX was my dream when I was a young boy.
The problems to keep the condition of my bike are that my Honda dealer declare that Honda Japan don't build never again some spares parts.
This is a problem for me, because in July of 2000 I have crashed my byke. Fortunately, I have damaged only the clutch cover, but this is one of the spares parts that Honda don't build never again.
I am searching this cover to market of older bikes, but up till now I haven't find.
Next Sunday I go to Milan, I hope to find many spares parts of my bike!
The most beautiful thing in my Honda is the engine, it is sweet below 5000 rpm in the caotic traffic of the city, but it is bad above this limit and give a lot of good sensations by ride in open streets. Also the fairing is more protective.
A little defect is the oscillations of the handle bar at low speed, do you know this defect in the other honda CBX?


Unfortunately, Honda CBX is rare in Italy.
The most populare bike in Italy are Ducati, with the model named "Monster" and series "916/996 Superbike".
This is a legendary bikes for the Italians bikers.
All the Honda models are more diffuse in Italy for they high quality construction standard, but all the Japanese bikes are more diffuse.
Well, many greetings to you. I go to ride my bike!
I hope to feel you soon!
Bye bye, :-)

Silvano Corsetti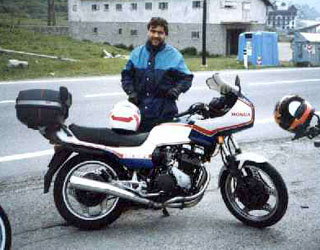 Silvano Corsetti (silvaco@interfree.it)
Comment from webmaster:
This '82 550 F2 keeps mint condition with original color and parts. In Japan, 550F2 only sold with different color and it has integrated rear turn signal lights. The rear handle for passenger is also attached only for the export version.

And the oscillations of steering handle in low speed is one of common problems of CBX. Please try to another tyres. Some people reports the tyre matching is effective.
---
This page is administrated by Yutaka Yasuda. (yasuda@bakkers.org)