Meet with Noriyuki, JAPAN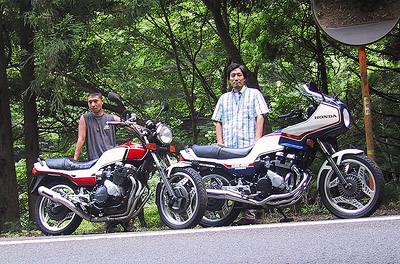 I have met with Noriyuki in Kyoto, JAPAN at 14 Aug, 2004. He lives in Tokyo then this is special encounter of two CBXs between over 550Km distance.
---
This time, Noriyuki was on a short trip from Tokyo via Aichi, Kyoto, Ishikawa and Niigata then back to Tokyo again in 5 days. We have met on the way of this deadly schedule.
That day was so hot, I have chose the way from Kyoto city to Kibune mountain area because Kibune area always be cool.
Noriyuki's 550F.
Initialy, this machine was exported to foreign country then re-imported to Japan. He bought it and run with care day by day.
A tail signal set and mud guard had been replaced to domestic parts. A steering bar and an exhaust system was also replaced to the third party products.
The machine has a taste. He should say "let us run much, from now on".
At the Kibune shrine temple. So cool.
Here is the north mountain area of Kyoto city. One of type of historical summer resort for high society. Whmmmm, motorcyclists are never dressed up, anytime, anywhere.
In Kamikuroda mountain area, with deep green for the background.
It is my favorite shot.
The focus is not so sharp, too bad!
Let us visit each other and meet people who loves CBX. And please don't forget to send a brief report to me when you succeed make a session.
---
This page is administrated by Yutaka Yasuda. (yasuda@bakkers.org)