Short touring with Ivo, JAPAN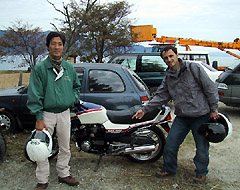 (From left, Yasu and Ivo. It looks so big guys and mini-moto because we are in front of the moto.)
5th October 2003, I have met with Ivo from Chez. We enjoyed autumn short touring in Kyoto and Shiga area.
---
It was 6th December of 1998 that we have met first, 5 years ago. The place was Kyoto too. Initialy, I have contacted with him at November of 1997 because I found a web page of him. Ivo has CBX in Chez. See "Ivo in Kyoto" report.

This year, he is living in Kyoto city several month for his job. So, today we went short touring using my CBX and CB-1. We have started from Kyoto city then pass Totyuu-ridge then went to Wani-beach of Biwako-lake. We had lunch then moved to north to Kutsuki and back to Kyoto city through the mountain area.
| | |
| --- | --- |
| | Biwako is behind of motos, but the lake is so large rather than what you can see on the photo. Whmmm. I shuld take a better shot. |
Let us visit each other of CBX owners! And please send a report to me if you succeed to make a session. We can feel the relationship.
---
This page is administrated by Yutaka Yasuda. (yasuda@bakkers.org)