2nd meeting in Toyokawa, Japan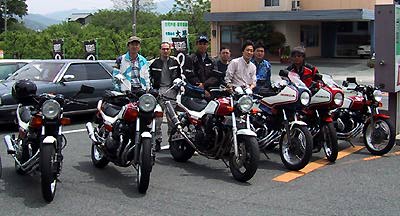 It was the day that I had been looking forward to. 4th May, 2003. I held the 2nd CBX owner's meeting and seven CBX owners gathered with their own six CBX machines. How nice!

(In the above photo, from the left. YAMA, MH, Lego, Masami, I am, Mr. Kitanishi and Mr. Hiyoshi. Motos are, from the left, MH's, YAMA's, Lego's, mine, Kitanishi's and Masami's CBX. Hiyoshi's 550F was in trouble at the day therefore he joined with the other moto.)
---
We were gathering at the cafe near by Toyokawa interchange first. Then we run to north to Hiraya village of Nagano prefecture. There was an old style cafeteria in the riverside, traditional GOHEI-MOCHI baked rice cake and a YAMAME wild trout had been served. After the delicious lunch, we had breakedup and back to their own home again. It was so wonderful and exciting day.
Enjoy our photos.
---
With Mr. Mizuno (the 3rd guy from the left) while we were waiting for MH. He had been late a little. Mr. Mizuno was an owner of 400 Custom in several years ago.
Please organize your local CBX meeting. It will be a great day of all owners. Of course please send a letter or photos if you succeed to do that.
---
This page is administrated by Yutaka Yasuda. (yasuda@bakkers.org)