Ebina's CBX 400 F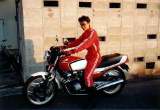 Feb. 1982. When I bought it. I had to wait 2 months to get it. After break in running, the engine had been broken. At 28,000 Km.
The reason is the problem of valves timing. It is the typical trouble of early lot. New engine was provied from Honda RSC service.
I decided I did not break in running.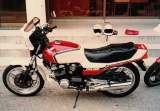 The second engine photo. I think it has more stable idling than the first engine. The windshield is made by 250 RS's one with some cut off processing.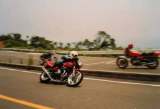 I modified some parts for speed in the winding road. A front stabilizer of Ogawa, separate sttering grips, an Yoshimura's racing exhaust system, Tadao's back steps and some RS 400 engine kit parts.
More faster but less fuel efficiency. A matter of course.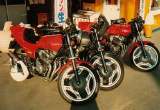 I had gone to Okayama area with my old friends from a junior high school. All three CBXs was modified, we had been gathered many enthusiasts when we stopped in some parking.
After three years later, the backward CBX moved to me because the owner had been married and got a child. I kept it. The racer replica model boom in Jpaan was in the heyday.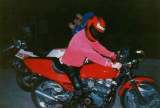 The color was the red and gold. It was the same color of my helmet. My helmet is the copy model of Mr. Katayama who was the one of the best rider of World Grandprix race scene. After this year, some parts used to be stolen. Even in this photo, there is no steering dumper that was just fitted recently.
Afterward, I had been stolen almost things. Only an engine, a frame and wheels remained. The key cylinder was also broken because the thief inserted a minus screw driver. I had to change it.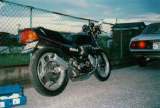 I restored it. I spent about 350,000 yen (over 3,000 US$). The color is the dark silver, the wine red and the gold stripe. It was '88 or '89, maybe.
I had an accidnet when I rode on XT 250 to go to work. After then, my company head office said to me don't ride a motorcycle. I had a break from my CBX but did not sell. Oh, sometime I rode it, of course I did not tell it to my boss.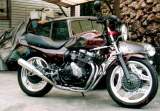 In 1997, I overhauled my first CBX.
The machine passed the motorcycle inspection in this condition. The cost is so high, maybe the same as new mchine price.
Carburetors and some parts arround of the front was hard to buy. But I restored it to the original solid red color and sold it. The 16,000 Km running. I had no my own CBX at that time. Slightly sad.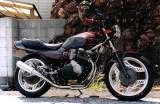 In 1999, I restored second machine.
It is the CBX of my best friend. Only 11,500 Km running and I kept it as parts supplier. But I could not sell it then I decided the restore plan for running again.
The color is the same of the last one. Carburetors cannot fixed then I changed them to CR units. An oil cooler had been also changed. Another modified points are a front stablizer and dumper of Daytona's, Tsubaki's gold color plated drive chain, an oil cooler and a brake tube of Arus, Yoshimura's racing exhaust system, SP Tadao's back steps and CR 26 carburator units.
But at last, I think the original condition is the best. I want to back all of them to the normal if I can do that.
Please don't hesitate to ask anything if you want to restore and turn on your CBX again.
Akihito Ebina
ebii01@alles.or.jp
---
This page is administrated by Yutaka Yasuda. (yasuda@bakkers.org)