Benoit's CBX550F
Hi, I'm from Quebec city, Canada and I really love these bikes, great look, great mechanics and still able to hold its place even after 20 years.

I bought my first CBX550 in 1989, a low km one for CDN$ 600.
The bike was pulling on one side when breaking so I suspected a bent frame. After investigation, I tough it would be cheaper to get a complete bike for parts than getting this one repaired.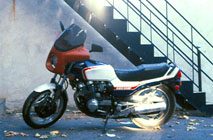 I found one with a knocking engine that had been raced, plus a four into one Wolf Racing exhaust, a brand new Metzeler front tire and lots of nice parts all this for CDN $250. I made one with the best of both and sold the rest for the same price I paid!
I wanted something special so I painted it glacier white, 15 coats of lacquer with clear coat, all buffed by hand to a mirror finish. Even the wheels and breaking parts got the treatment, in this case I used polyurethane paint in spray can for a tough finish. You can see it in the pics without the side stickers at that time.
I sold it in the early 90's just to regret it not long after.
In 1998 I asked a friend if she would sell her CBX550, a 1983 originally bought new in 1986 for CDN$ 1600. It was stored for the last 9 years and was in good overall condition except for perforated exhaust and gas tank due to rust. I found a used tank and rebuild the original exhaust.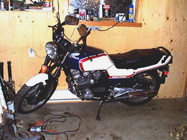 Since then, I changed one fork tube, the rear shock, chain and sprockets and in December, 2 new Michelin Macadam 50 100-90 in front and 120-90 at the rear. I'm planning a complete repaint for next summer probably in white again. CBX parts are now getting harder to find so I bought one again for parts last summer.
Thanks
Feb. 2004
---
Benoit Bertrand
carlmars@sympatico.ca
---
This page is administrated by Yutaka Yasuda. (yasuda@bakkers.org)