ACID53's 400 F
I have got a message and photo from ACID53 who lives in Osaka, in Japan.
---
I keep continue to check your web site scince 2002 or around and it is also a trigger to buy a CBX for myself, of course.
Finaly I succeed to get a CBX which was not able to run as is through the net auction. I bidded without any check of the status in real, so the condition was not good, yes I could not run.
I am restoring it still now because the limitation of the budget and not enough time of mine. Even so, it is very close to able to run.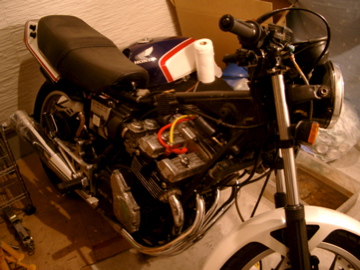 1982 model, 400FC (type 1) of Japan specification but the rear fairing is 550 for export attached.
(acid53@hotemail.com)
July, 2008
---
This page is administrated by Yutaka Yasuda. (yasuda@bakkers.org)